Quality Management
Commitment to High-Quality spirit
In this fast-paced and dynamic market space, Electronics manufacturers are challenged by:
Increasing global competition
A need to produce the highest quality products
A continual need to drive down costs
Supplies sourced from across globe
As a result of these challenges, quality managers in the Electronics industry need real-time visibility — within plants and across the globe — to proactively:

Maximize yields
Drive down costs
Reduce waste and scrap
Optimize processes through continuous improvements
Ensure part and product traceability
Electronics Industry Quality Control Solutions

We can apply our vast knowledge to improve your most pressing Electronics quality control challenges.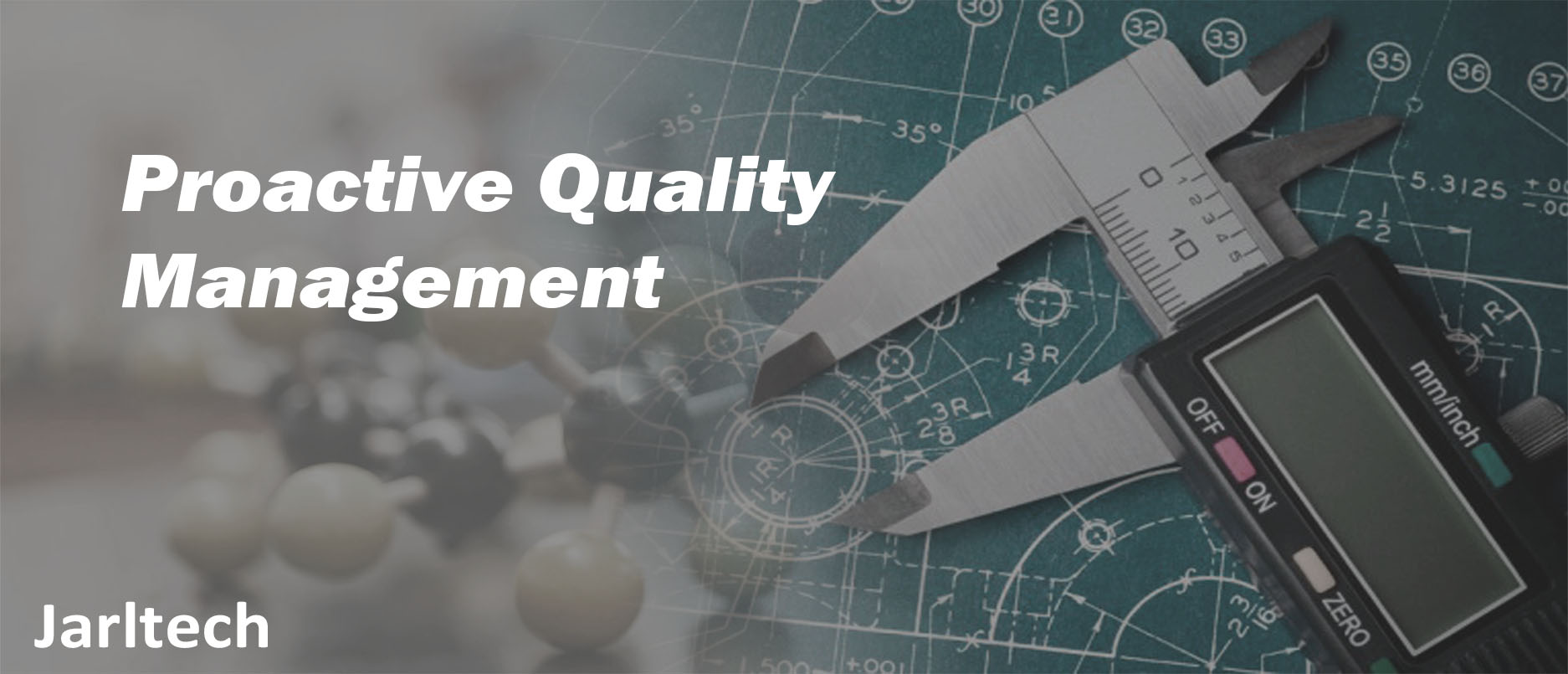 Quality Control Process
At Jarltech, quality is not only a mindset, but also a formalized system. Through strict documentation and procedures, our engineers and operators maintain control of quality throughout every step of production.
The quality control process is divided into three separate processes, ensuring that specialized expertise is applied to each stage of our operation. This system also provides the redundancy necessary to prevent any quality problem from evading detection.

Incoming Quality Control
It is the job of the IQC process to conduct inspections and handle quality issues before the assembly process starts.Assist Suppliers in quality control of raw material and semi-finished production (module), to handle/control the incoming quality to avoid using the failed components.
Specific tasks of IQC include:
Perform approved vendor list check;
Evaluate supplier quality records;
Perform sampling of incoming materials based on the MIL-STD-105E standard;
Perform dimension, visual and functional inspection of material samples;
Monitor quality control chart of inspected properties and alert engineering staff of significant deviations;
Continuously enhance the IQC process.


In-Process Quality Control
Our IPQC process governs our quality systems during the assembly process in order to detect and handle any problems that may arise during assembly.
Specific tasks of IPQC include:
Perform inspections on assembled and in-process materials according to IPC-A-610D standards;
Conduct in-line automated and manual inspections (see our Testing Equipment page for details);
Apply first-article inspection after process setup;
Utilize statistical control techniques and watch for significant deviations;
Perform in-process audits to ensure processes are up to standard, and to identify factors needing improvement.
Outgoing Quality Assurance
OQA is the last process before products ship to customers, and hence is very important in ensuring our shipment is defect-free. Numerous redundancies with IQC and IPQC exist here to ensure the validity of previous processes.
Production before been dispatched, our OQC Department will run strictly the essential examine and test following Inspection Specification to make sure the comprehensive of the production.
Place the finished goods onto the fumigated Wooden Pallet and covered with Water-Proof Bag in order to prevent damp during the transportation.
Specific tasks of OQA include:
Perform visual and functional inspection;
Verify first-article inspection;
Repeat approved vendor list check;
Apply sampling based on the MIL-STD-105E standard;
Conduct reliability testing;
Submit failure analysis reports and alert engineering staff.
Completely equipped test equipment:
In our products test, a wide range of full testing to ensure the product fits each client's final product requirements. Jarltech has differ test equipment for assembly lines, and according to customer need in manufacturing process, there are differ test stations with different function tests to deliver strict quality checks.testing to ensure the machine fits each client's final product requirements. Moreover, we offer warranty and repair services to our customers, include ECO upgrading (hardware and software), system level repairs and component level repairs. Each repair project will come with a detailed engineering failure diagnosis followed an in-depth root cause analysis. And all the repair works are undertaken in clear and static-free environment to insure quality.
---
Press Release
Jarltech Touch Screen Solutions

Cleaning touch panel surfaces as become necessary because of the pandemic rage of COVID-19.

Read More

Industrial Automation

See the applications that how we can be the electronic product provider or IoT solution tailored to your environment.

Read More

Smart Retail

Jarltech's Smart Retail solution is a complete suite of AI-based video analytics products for the retail environment.

Read More