Self-Ordering-Kiosks
New self-service technology built for SMBs
Self-Order Kiosk keeps you ahead of the competitor by creating a new kind of order experience for guests: one that's interactive, trendy and gives customers what they want. While your guests are placing their own order, your staff can focus on the part of the experience that needs a human touch. Give them the freedom to offer guests more information, focus on upsells and create a more pleasant experience. Customers order more when placing the order themselves rather than with a server, and this frees up your staff to focus on provides products to guests instead. Streamline the number of servers you staff for each shift to become even more efficient.
Self-Ordering-Kiosk for restaurant(Self-Order Kiosk has some major changes on customer behavior)
Customers get to be as picky as they want. Most of us have fairly specific preferences about the things we buy, especially food at restaurants. But when you order from a live person, placing a complicated custom order feels like inconveniencing someone. As a result,customers using self-service kiosks JP-SC100 tend to choose more custom options and add-ons, even when they cost more money. This is an example of a win-win for the consumer and the business, increasing customer satisfaction while also driving sales.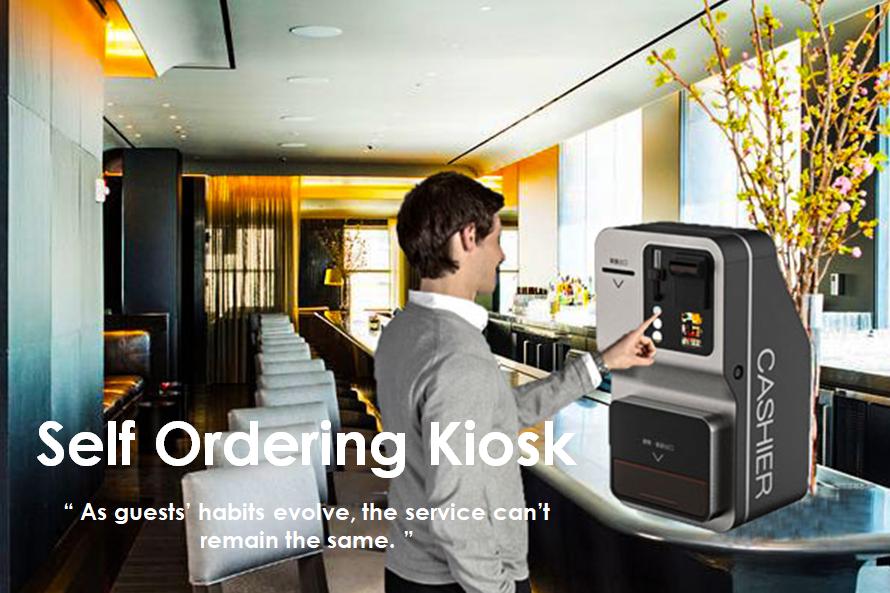 When restaurant customers place orders through a touchscreen at their table ,there are lower barriers to customer transactions. Self-service kiosks JP-SC100 mean shorter lines, less chit chat, and total freedom to text or listen to podcasts while buying your latte. Customers appreciate all three of these conveniences. The bottom line is that the JP-SC100 make it easier to go into a business, get what you want.
Fast&Intuitive: It easy for guests to select the items they want to order, customize to their liking, and check out in a matter of minutes. Guests can then pay and receive a printed or emailed receipt without waiting for assistance from an attendant.
Support For pay in cash Types: Guests can allow customers to order food and pay using banknotes and coins. The Kiosk can also dispense banknotes and coins as change.
Increased Guest Satisfaction: With guests placing their own orders, providing self-ordering options reduces wait times and increases customer satisfaction.
Increased Revenue: Guests tend to order more items when using self-service solutions, which will lead to an increased bottom line.
Reduced Costs: Self-serve kiosks not only reduce labor costs but also reduce costs associated to inaccurate and returned orders.
Jarltech Self-Ordering System
Jarltech Self-Ordering System could integrated with Touch monitor and Digital signage . Such application can be used to not only engage and entertain waiting customers, but to also increase product awareness and stimulate purchase behaviors.Jarltech Self-Ordering System could integrated with Thermal Printer for recording transaction data. It can be use for cross-analysis of consumer purchase behaviors.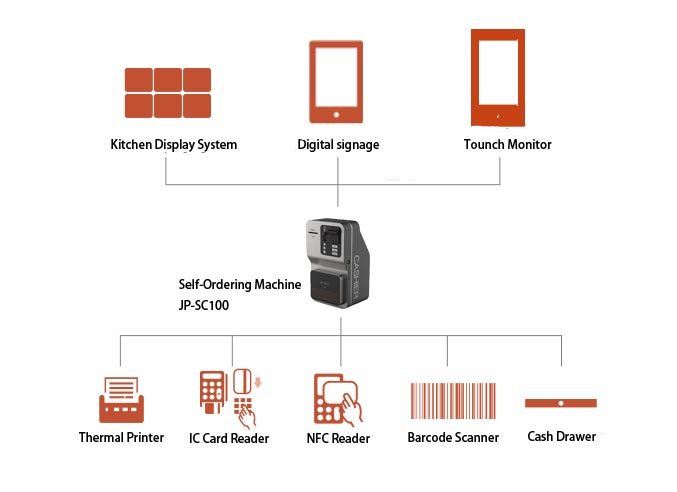 Convenient Self-Service System for Enhanced User Experience
Jarltech Self-Ordering System was designed by modular which easier and more affordable for customer to integrate into their system. As a payment solution, Jarltech Self-Ordering System has very compact design and high performance, built-in 3" thermal printer, also support many different countries's cash. Self-Check-In Services Reduce Personnel Costs, the barcode scanner can streamline the overall service process.This can reduce customer wait times and enhance the service quality and speed. Integrated with digital signage management software, point-of-check-in system terminals can be used to automatically play interactive advertisements and QR code promotions to attract customer attention.
Movie




---
Press Release
Jarltech Touch Screen Solutions

Cleaning touch panel surfaces as become necessary because of the pandemic rage of COVID-19.

Read More

Industrial Automation

See the applications that how we can be the electronic product provider or IoT solution tailored to your environment.

Read More

Smart Retail

Jarltech's Smart Retail solution is a complete suite of AI-based video analytics products for the retail environment.

Read More