Smart Retail
Smart Retail and Business Intelligence
Jarltech's Smart Retail solution is a complete suite of AI-based video analytics products for the retail environment. Brick and mortar locations make up the primary channel for many retailers, but until recently physical locations relied on archaic methods of data generation that missed key components of the in-store customer experience. Managing products, services and staff on a large scale while adjusting to consumer demands can be difficult without timely and up-to-date information. Jarltech's Smart Retail solution provides a number of services that can deliver the needed information to streamline decisions and create more value for the customer. Jarltech Smart Retail solution takes advantage of Digital Signage combined with analytical software to gather data on store operations and customer trends.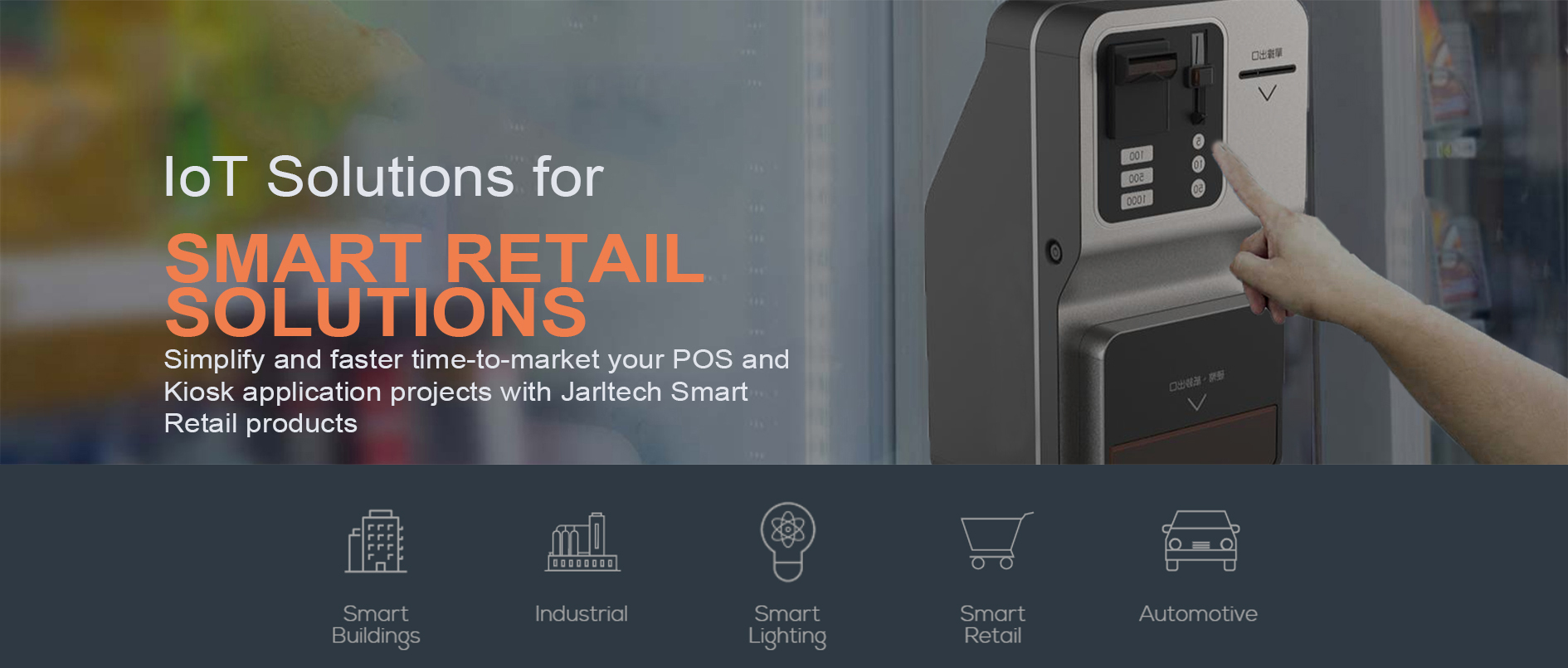 Simplify and faster time-to-market your POS and Kiosk application projects with Jarltech Smart Retail Solutions!
We provide customer-oriented and customized computing solutions for entry-level to advanced-level POS and Kiosk machines. To meet the rapidly increasing demands of this smart retail market, we develop of POS terminals, self-service kiosks, Printers solutions to keep our customers stay ahead of their competitors.
Value Benefits:
1. Savvy Store Decisions Made Easy
Jarltech Smart Retail Solutions is a comprehensive, real-time, portable analytical tool for single to multi-store operational managers and retail marketers, incorporating camera and IoT correlation analytical data to store operation overviews of top performing traffic, shopper, revenue count, and conversion rates, in order to deliver actionable insight, for better advertising strategy, staffing management and drive business outcomes.

2. Shopper Demographics
Jarltech Smart Retail Solutions rich analytics tools delivers single and multi-store visual overviews of top performing traffic, people count, gender, and ages. Combined with POS data, conversion rate, and shopper preference analysis to better target product promotion strategy. Drive sales results by comparing analytics data based on time frames and various data sources to further improve shop layout, product promotion, and marketing/advertising strategy. Smart Retail also provides management solutions of customized content delivery and smart signage for targeted marketing.
3. Visualize Shopper Behavior
Understand the effectiveness of your store layout, advertising tactics, and employee deployment to further increase efficiency and performance. Assign grouped cameras in stores, for real-time and historical data, of different brands and product areas to trace shopper's location, and analyze dwell time, to systematically visualize shopper behavior and product attractiveness. Store managers can then deliver relevant advertising to target shoppers and allocate employees, to further increase sales results.
4. Advanced Data Analytics
Jarltech Smart Retail Solutions allows management team to make decisions and take action immediately to capture market momentum, and prevent potential losses. Customized widget setting allows store managers to review higher priority, relevant individual store information, and product/behavior correlation analysis to accurately target marketing campaigns. The metrics dashboard live platform can be integrated with external databases, e.g. POS, CRM, to generate in-depth comparison analysis insights across different datasets.
Custom Design for Smart Retail Applications

Jarltech has been helping our clients design and develop computing boards and touch panel pc systems with special requirements for integrating into their vending machine, POS and kiosk applications.
User-friendly, cost-efficient, and easy-to-install, Jarltech's Smart Retail Kiosk provides a quick solution to provide interactive services in convenience stores, way finding in shopping malls, and self-service ordering in quick service restaurants, fulfilling the operational needs of the retail and hospitality industries.
Jarltech provides

• Faster time to market (Development within few months duration)
• Tailor-made solution to accommodate client's legacy product specs
• Knowledge sharing
Future

The retail industry is evolving rapidly. Innovative technologies, changing customer expectations, and emerging digital firms are driving widespread disruption. Today's hyper-connected customers expect retailers to engage with them seamlessly and bring personalized shopping experiences across various channels. The explosion of IoT enabled devices, software-defined infrastructure, cloud-based analytics are some of the major forces that are revolutionizing the retail landscape.
We have been helping retail enterprises and solutions providers, especially in areas of product design engineering, connectivity/IoT enablement, and software & application development.
We make custom design process simple and fast prototype turn around time for customer to test and evaluate within their desired time-line.
Press Release
Jarltech Touch Screen Solutions

Cleaning touch panel surfaces as become necessary because of the pandemic rage of COVID-19.

Read More

Industrial Automation

See the applications that how we can be the electronic product provider or IoT solution tailored to your environment.

Read More

Smart Retail

Jarltech's Smart Retail solution is a complete suite of AI-based video analytics products for the retail environment.

Read More