2-Inches With Cutter
The 212 series (2M012CX) is a 2 inch Thermal Printer Head with cutter for paper cutting.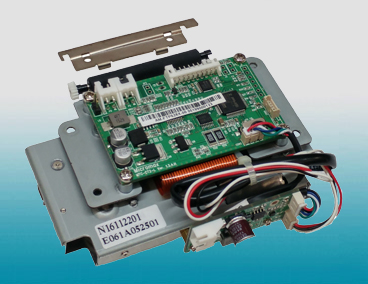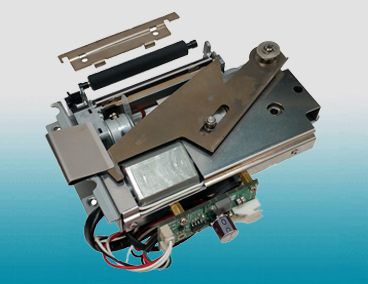 Support USB and RS232 Serial Port, also support Windows 2000/XP/7 and Linux Driver.
Product Introduction
The 212 series is a 2 inch thermal printer head, with cutter for paper cutting. It is a high speed, high reliability, high performance thermal printer module, printing on 58mm width thermal paper. It has printing speed up to 80mm/s, with voltage supply from 12V to 24V and provide paper near-end sensor option. Thermal printers print more quietly and usually faster than impact dot matrix printers. They are also smaller, lighter and consume less power, making them ideal for portable and retail applications.
The 212 series thermal printer module can be found in customer terminals, POS printer, ticket issuing terminals, barcode printers, banking terminals, cash register devices and can be embedded easily into system or applications which require print outs.
Product Features
2 Inches Thermal Printer With Cutter

Thermal Printing Method

Dots/line 384 dots/line

Printing Width (mm) 48 ± 0.2mm

Paper Width (mm) Max.58mm ± 0.1mm

Paper Thickness 60 to 100 μ m

Easy Paper Loading

Support Paper Near-End Sensor (option)

Support Cutter

Support Wide Operating Voltage Range



Specification

Printer
Print Method : Thermal line dot printing
Printing Speed : Max. 80mm/second
Number of dots/line : 384 dots
Print Resolution : 8mm (dots/mm)
Printing Width : 48 ± 0.2mm
Paper Width : Max.58mm ±0.1mm
Printing Thickness : 60 to 100 μ m
Print Color : Black
Power Supply (V)
Operating Voltage : 12V – 24 V
Printer Head : 4.2V DC to 8.5V
Stepping Motor : 4.2 V to 8.5 V (DCV)
Cutter Voltage Norminal : 5V+10%
Head Logic : 3 V to 5.25 V (DCV)


Energy Consumption : 0.15mJ/dot(0.63ms/line, 25℃)
Power Consumption : 0.24W/dot

Life (Head)
Electric Life : 100 million pulses

(Under our standard printing conditions.)


Wear Life : Printing length, 50km

(Under our standard printing condition)

Printing rate 12.5%
Life
Platen Opening Closing Life : More than 5000 times (Each open/close action counts as one time.)


Photo Interpreter Life : 1.2×104hours (electrified time) with the recommended circuit.

Cutter Life : 700,000 cuts (Based on 0.06 mm ordinary paper)

Paper Cutter
Type : Slide Type (Easy Loading)
Cutting Width (mm) : 60 mm (Max.)
Cutting Thickness (mm) : 0.06mm ~ 0.1mm
Duty Cycle : 20~25 cuts/min
Cutting Type : Full Cuts
Detection
TPH Temperature : Thermistor
Platen Position : Photo Interrupter
Out Of Paper : Photo Interrupter
Cutter Home Position : Micro Switch
Environment
Operating temperature : 0°C ~ 50°C (No Condensation)


Operation Humidity : 20~85%RH (No Condensation)

Storage Temperature : -20°C ~ 60°C (Excluding Paper)

Storage Humidity : 5 to 90%RH (No Condensation)

Additional Features
Paper Near End Option Available
Fonts
ISO 8859
ISO 8859-2
Traditional Chinese (Big-5)
Interface
RS232
USB

Dimensions

Printer Head : 70.2 x 33.0 x 15.5 mm
Control Board : 92.3 x 27 x 13 mm


Cutter : 109.8 x 68 x 22.7 mm

OS Support
Windows 2000
Windows XP
Windows 7
Linux Drivers
Certificate
RoHS
FCC Class B
ESD Level 2

Note

Not sure what your need? We'll create solution for you.

Send your request to: info@jarltech.com.tw
We will promptly contact you and inform you on your project. You can also reach us by phone.

Related Products

---

Related Files Download

---
Press Release
Jarltech Touch Screen Solutions

Cleaning touch panel surfaces as become necessary because of the pandemic rage of COVID-19.

Read More

Industrial Automation

See the applications that how we can be the electronic product provider or IoT solution tailored to your environment.

Read More

Smart Retail

Jarltech's Smart Retail solution is a complete suite of AI-based video analytics products for the retail environment.

Read More